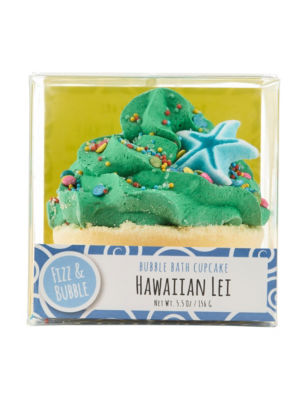 Fizz & Bubble Hawaiian Lei Bubble Bath Cupcake
$7.99
SALE
reg.

$9.99
20% OFF
Description
Bask in the vision of frolicking ocean waves and sinking your toes into warm, soft sand. This bubble bath cupcake entrances in the scent of white gardenias, taking you to a sunny Hawaiian paradise. A scent made for your best tropical dream, this cupcake exfoliates the body with moisturizing oils to make your skin beautiful and healthy, all while turning your bath into a glorious bubbling experience.

Benefitscontains our signature blend of eight essential oils: avocado, jojoba, coconut, sweet almond, olive, aloe vera, sunflower and grapeseed! Rich fragrance in bubble bath frosting and fizzy soothes the senses while the oils work to moisturize and restore your skin to a healthy shine.

Safe and natural. Not an edible product. Free of animal ingredients, animal testing and unnecessary chemicals. Made with all-natural and biodegradable ingredients. Eco-friendly. Child-safe.
Easy to use! Run the frosting topping under hot running water and drop the fizzy half in the tub like you would any other fizzy for the most nourishing effects!
Share: